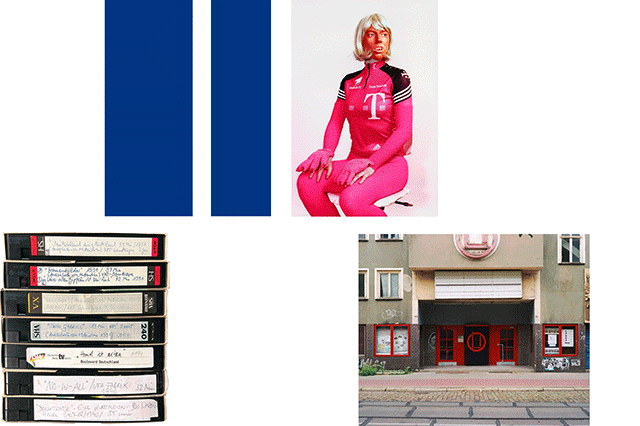 Dieser Blog ist ein digitales Recherche- und Präsentationsformat der Ausstellung / This blog is digital research and presentation format of the exhibition

… oder kann das weg? Fallstudien zur Nachwende

nGbK, Oranienstraße 25, 10999 Berlin
16. September–7. November 2021
www.ngbk.de



Konzept/ Concept (>>English below)
Das Recherche- und Ausstellungsprojekt untersucht anhand von künstlerischen und kuratorischen Fallstudien die »Nachwende« – einen zunächst als Übergangsphase der 1990er Jahre angenommenen Zeitraum. Das Projekt erforscht, wie Künstler_innen ihre Arbeitsweisen auf die neue Situation ab 1990 anwandten, welche Methoden und Motive in diesem Aufeinandertreffen der Kunstbegriffe und Systeme »Ost-West« unlesbar wurden und wie diese von jüngeren Generationen wieder aufgegriffen werden. Die Ausstellung ist somit jener Suche ostdeutscher Künstler_innen nach einem neuen und eigenen Vokabular gewidmet, die in einer im weiteren Sinne verstandenen »Nachwende« bis heute andauert.

Indizien für diese fortdauernde »Nachwende« lassen sich in den Selbstkategorisierungen ostdeutscher Künstler_innen finden: veranschaulicht am Beispiel ihrer Selbstnummerierungen als erste, zweite, dritte Künstler_innen-Generation oder ihrer Selbstkarikaturisierungen als Ossi, Ex-Ossi oder Wossi, sowie von Unterscheidungen wie Transfer-, Exil- und Quoten-Ostdeutsche (Yana Milev). Diese Selbstkategorisierung wurde jüngst durch den Vergleich ostdeutscher und migrantischer Erfahrungen (Naika Foroutan) erweitert und durch die Beschreibung der Ostdeutschen als in sich heterogen (u. a. Peggy Piesche) verkompliziert.

In dem auch von Künstler_innen erlebten und vermittelten Prozess der Selbstbestimmung lassen sich über die letzten drei Jahrzehnte wiederkehrende Methoden ausmachen: die Verwendung biografischer Referenzen, der Rückgriff auf Privatarchive und Werkbestände der eigenen Familien sowie die Verwendung von Dokumenten aus staatlicher Überwachung als nun öffentlich zugängliche – wenn auch nicht immer unproblematische – Quellen. Solchen künstlerischen Selbstvergewisserungen gehen oft mehrfache Überschreibungserfahrungen voraus: durch die gezielte Zerstörung und Nichterfassung von Arbeiten, durch ihre Abwertung zu reinen historischen Zeugnissen, durch die Auflösung von Archiven und das Verschwinden von Werken in den Depots. Diese Art der Überschreibung haben sich Künstler_innen auch als Methode angeeignet – als Erfindung von fiktiven oder individuellen Quellen oder als einen Methodentransfer in die eigene künstlerische Praxis.

Fallstudien
In dem zweijährigen Projekt sind acht thematische Fallstudien entstanden, deren Fokusse und Titel sich in der gemeinsamen Recherche herauskristallisierten. Von diesen Fallstudien sind sieben jeweils einer Ausstellungswoche zugeordnet:
»Paradies Leerstand« (16.–22. Sept), »Muttiland Revisited« (23.–29. Sept), »Marlboro Man« (30. Sept–6. Okt), »Stasisauna« (7.–13. Okt), »Depot Bilderstau« (14.–20. Okt), »Wessiwerdung« (21.–27. Okt), »Ossiwerdung« (28. Okt–7. Nov)

Ohne jeden Anspruch, die Kunst der Nachwende in ihrer Gänze zu kartieren oder abzubilden, verweisen die Fallstudien auf eine noch andauernde Suche nach einer neuen, eigenen Sprache und nach neuen Bildern und Methoden. Sie können als Vorschläge angesehen werden, um zu künstlerischen Praxen der letzten Jahrzehnte anhand einer Reihe von thematisch miteinander verknüpften Arbeiten ins Gespräch zu kommen.
Fallstudien und Beiträge von: Bakri Bakhit, Tina Bara, Nadja Buttendorf, Can Candan, Yvon Chabrowski, Harun Farocki, Rainer Görß/Ania Rudolph, Jörg Herold, Bernd Hiepe, Margret Hoppe, Susanne Huth, Wilhelm Klotzek/Peter Woelck, Silke Koch, Eric Meier, Minh Duc Pham, Andrea Pichl, David Polzin, Sabine Reinfeld, Sophie Reinhold, Elske Rosenfeld, Tucké Royale, Wolfgang H Scholz, Gabriele Stötzer, Achim Valbracht, Anna Voswinckel/Beatrice E. Stammer, Suse Weber, Anna Zett/Hermann Heisig
---
Concept (English)
Through artistic and curatorial case studies, this research and exhibition project investigates the »Nachwende« (»post-unification«) – the 1990s, a time period initially assumed to be a transitional phase. The project explores how artists adapted their working methods to the new situation after 1990, which methods and motifs became illegible in this »East-West« clash of art concepts and systems, and how these are being taken up again by younger generations. The exhibition is devoted to East German artists' search for a new and distinctive vocabulary, a search that continues – in a »Nachwende« period understood in the broader sense to extend to this day.
Indications of this continuing »Nachwende« can be found in the ways East German artists categorise themselves: exemplified by their self-identification as first, second, third generation artists or in their ironic self-designations as Ossi, ex-Ossi, or Wossi, as well as by distinctions such as transfer, exile, and quota East Germans (Yana Milev). These self-categorisations have recently broadened to include comparisons of East German and migrant experiences (Naika Foroutan) and have been rendered more complex by the description of East Germans as inherently heterogeneous (Peggy Piesche, among others).
In this process of self-determination, also experienced and mediated by artists, recurring methods can be identified over the last three decades: the use of biographical references, recourse to private archives and work inventories of the artists' own families, and the use of documents from state surveillance as now publicly accessible – if not always unproblematic – sources. Such assertions of the artistic self are often preceded by various experiences of overwriting: through the deliberate destruction and non-recording of works, through their devaluation into mere historical artefacts, through the dissolution of archives and the disappearance of works into storage. Artists have also appropriated this kind of overwriting as a technique – the invention of fictitious or individual sources or by transferring these methods into their own artistic practices.
Case studies
Over the course of the two-year project, eight thematic case studies emerged, their foci and titles distilled through processes of collaborative research. From these case studies, seven are assigned to one exhibition week each: »Paradies Leerstand« [Paradise vacancy] (16–22 Sept), »Muttiland Revisited« (23–29 Sept), »Marlboro Man« (30 Sept–6 Oct), »Stasisauna« (7–13 Oct), »Depot Bilderstau« [Depot image backlog] (14–20 Oct), »Wessiwerdung« [Becoming Wessi] (21–27 Oct), »Ossiwerdung« [Becoming Ossi] (28 Oct–7 Nov).
Without claiming to map or depict the art of the Nachwende in its entirety, the case studies point to an ongoing search for a new and distinct language, as well as for new images and methods. Constellations of thematically linked works can be seen as prompts for a conversation about artistic practices of the last decades.
Case studies and contributions by: Bakri Bakhit, Tina Bara, Nadja Buttendorf, Can Candan, Yvon Chabrowski, Harun Farocki, Rainer Görß/Ania Rudolph, Jörg Herold, Bernd Hiepe, Margret Hoppe, Susanne Huth, Wilhelm Klotzek/Peter Woelck, Silke Koch, Eric Meier, Minh Duc Pham, Andrea Pichl, David Polzin, Sabine Reinfeld, Sophie Reinhold, Elske Rosenfeld, Tucké Royale, Wolfgang H Scholz, Gabriele Stötzer, Achim Valbracht, Anna Voswinckel/Beatrice E. Stammer, Suse Weber, Anna Zett/Hermann Heisig